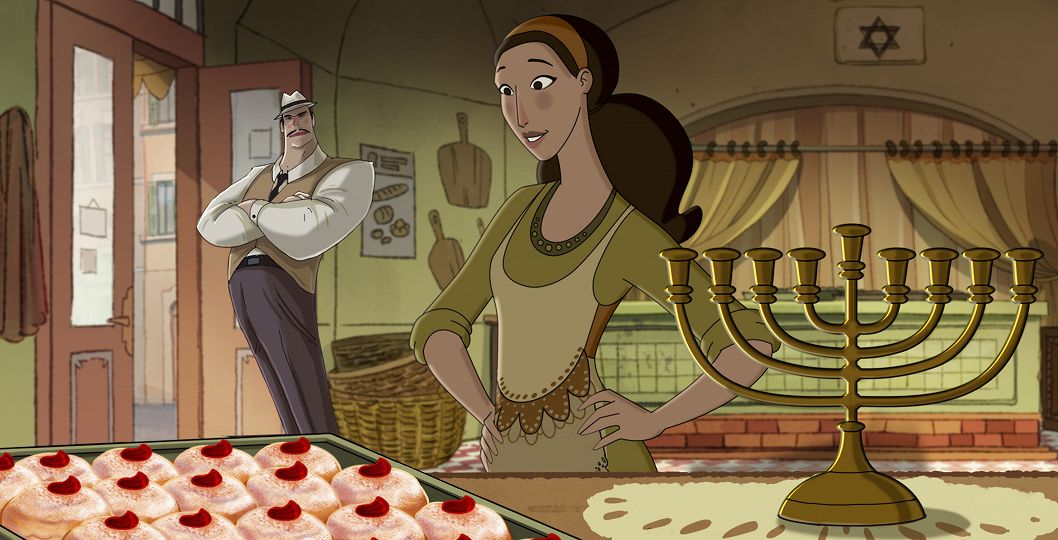 Short animation Hanukkah – The festival of lights
FROM RAI RAGAZZI AND GRAPHILM ENTERTAINMENT
THE ANIMATION SHORT
HANUKKAH – THE FESTIVAL OF LIGHTS
Directed by Maurizio Forestieri
with the voices of Luisa Ranieri and Francesco Pannofino
Hanukkah – The festival of lights: animated short film directed by Maurizio Forestieri and with the voices of Luisa Ranieri and Francesco Pannofino. Produced by Rai Ragazzi and Graphilm Entertainment of Rome.
Scripted by the director and Anna Lucia Pisanelli and told in a lively and elegant way by an Italian animation master such as Maurizio Forestieri, Hanukkah – La festa delle luci is a story of friendship, courage and sharing, full of poetry and food for thought , aimed at children and their families.
In post-war Rome, among the Jewish community that wants to start living again freely after years of racist persecution, a young pastry chef named Anna fights to save the family shop from the clutches of Antioco, a mean and ruthless man. In an age where there is a lack of necessary, on the eve of the Hanukkah holiday, friendship and solidarity will make the difference …
Through the fantasy story of the young pastry chef Anna, we discover something of one of the oldest and most fascinating festivals that are celebrated in Italy, the Jewish holiday of Hanukkah, the festival of lights. For Anna too, the salvation of her workshop will pass through olive oil, a small prodigy that refers to the miracle of oil in the chandelier of the Temple of Jerusalem, a symbol of the festival of lights. Holidays are important moments in the life of communities, loved by children and not only. Through the festivities one can know in a playful way one's roots, the customs and habits of near and far peoples, the sense of gift and being together.
https://www.rai.it/raigulp/news/2019/12/-Hanukkah-La-festa-delle-luci-86706915-1c3b-4acd-a1d5-b4efff963afb.html