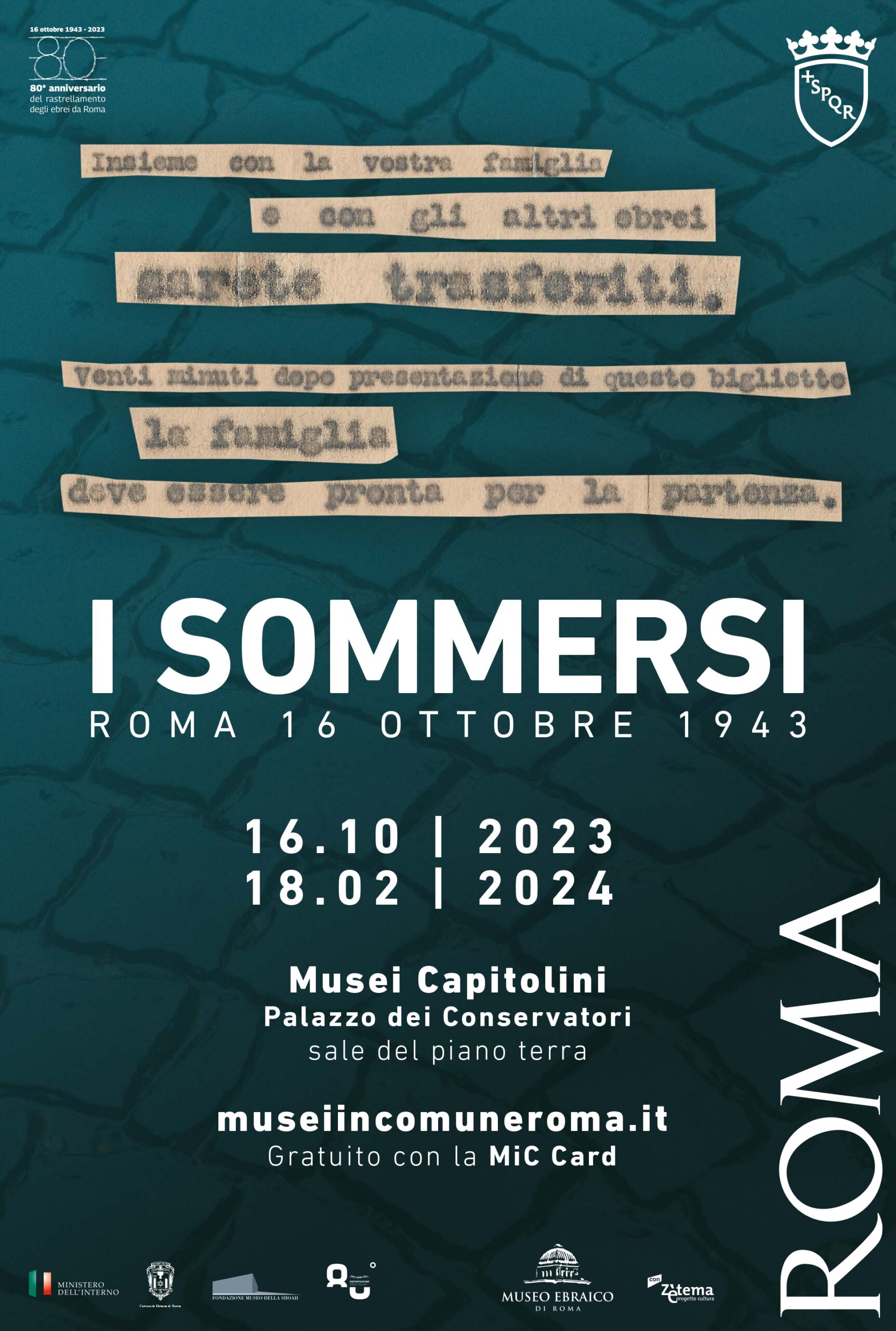 I Sommersi
I SOMMERSI
ROME 16 OCTOBER 1943
1 6 . 1 0 | 2 0 2 3
18.02 | 2024
Eighty years after 16 October 1943, the exhibition, curated by Yael Calò and Lia Toaff, commemorates the tragic event through the display of documents, newspapers, drawings, photographs but above all objects from the daily lives of people – women, men, children – arrested that day and never returned.
The exhibition is a journey through history that focuses on the city of Rome, which was divided into zones by the Nazis so that the arrests could involve all the districts of the capital, districts described along the exhibition route through the stories of people captured in the different zones.
The narration is realised through the presentation of works and materials conserved at the Vatican Museum Archives, the Foundation Centre for Contemporary Jewish Documentation in Milan, the Central State Archives, the State Archives of Rome, the Historical Archives of the Jewish Community of Rome, the National Library of Italian Judaism 'Tullia Zevi' – Historical Archives of the Union of Italian Jewish Communities, the Gramsci Foundation, the Museum of Rome, the Giovanni Barracco Museum of Ancient Sculpture, the Jewish Museum of Rome and the lending families.
Information
, Palazzo dei Conservatori, ground floor rooms
Opening hours
From October 16, 2023 to February 18, 2024
Every day 9.30 – 19.30
24 and 31 December 9.30-14.00
1 January 2024 11-19.30
Last admission one hour before closing time
Closed: 25 December
Before planning the visit, CONSULT THE NOTICES
Entrance ticket
Admission to the Exhibition will be permitted to Musei Capitolini ticket holders in possession of the admission to Musei Capitolini exhibition ticket holders, as well as MiC card holders, according to the current rates.
Admission is free for MiC card holders.
There is an agreementt between the Musei Capitolini and the Museo Ebraico di Roma, allowing the visitors attending both museums to access the museum with a reduced ticket.
Gallery