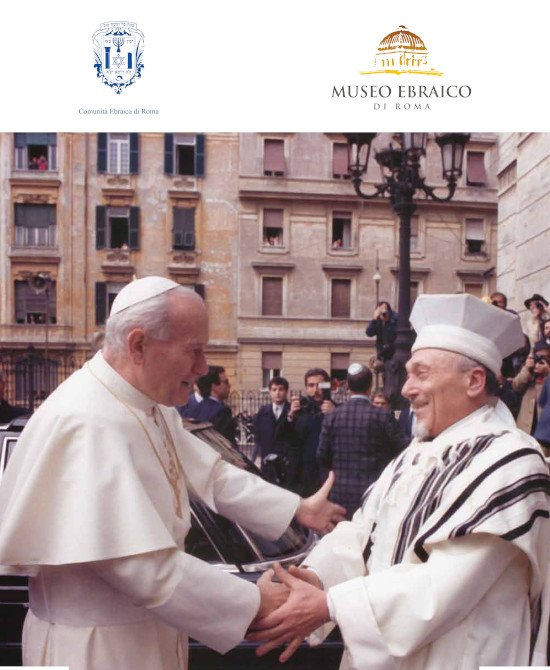 Thirty years after the memorable embrace between Pope Giovanni Paolo II and Rav Toaff
1986-2016: Thirty years after the memorable embrace between Pope Giovanni Paolo II and Rav Toaff
Written by Lia Toaff
"At 5.15 pm Giovanni Paolo II entered the Synagogue, he came towards me with open arms and embraced me. And while he was about to enter the crowded Synagogue and make that gesture to fix a century-lasting issue, I felt flattened by the weight of all the pain that my people had suffered in two thousand years. […] I passed in the midst of the audience, standing, as if in a dream, the Pope at my side, and behind there were cardinals, prelates and rabbis: an unusual procession, and certainly unique in the long history of the Synagogue. We got on the Tevà and turned towards the public. And then, the applause broke out. A very long and liberating applause, not only for me, but for all the audience, who finally fully understood the importance of that moment".
The meeting between the chief rabbi of the Jewish Community of Rome and the Pope, in April 13th 1986, must necessarily be part of a discourse that seeks to recreate the prelude of that day through small stages, and in which the two main characters, their lives and their vicissitudes are fundamental to understand its importance.
Through a selection of documents, letters, photographs and objects coming from the private archive of the Toaff family and the Historical Archive of the Jewish Community of Rome, it will be possible to understand the importance of this event and the positive consequences it had.
In addition to highlighting the historical importance of the meeting, we aim to bring out the strong emotions experienced by the two main characters of the famous embrace; a gesture that initiated a deep and lasting bond of friendship until the death of the Pope. That Pope who even went so far as to mention the rabbi in his will: the only one, besides his personal secretary, to be mentioned there.